VistaPoint Enterprise is fully compatible with Cisco UCM v6 - 11.x 

Cisco Co-Residency Approved!
VistaPoint Attendant Consoles
Performance, Scalability, and Resiliency
Affordable Solutions

Multiple deployment options to choose from

Complete Compatibility

CiscoUCM v6.x-11.x Cisco co-resident approved for BE6 and 7K

Comprehensive Integration

Jabber, InformaCast, MS Lync, Exchange/365, SMS Messaging via TigerText, MS Dynamics, SalesForce.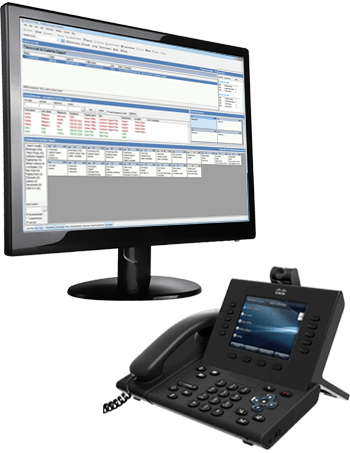 Intuitive End-User Experience

Customized feel for ease-of-use and increased productivity

Full Upgrade Credit

Trade-in your "Lite" Console and receive a credit toward upgrade to a server version

Proven best overall value on the market

Over 10,000 deployments worldwide
Apr 14, 2015
"VP Desktop companion has become an essential tool to our agency. User friendly, stable and has all the features that our users need to for either personal use or for managing a large number of inbound calls. Additionally, support has been excellent. Not only is the support team top of the line for this kind of product (having worked with TAC on Attendant console), but in general iQ NetSolution has support that ranks #1 or #2 on my list of providers. Fast, competent and complete. If the product features meet your needs, I would not hesitate to move forward with iQ as a provider."
Feb 3, 2015
"I don't know anyone who knows their product better than Brian Buttner of IQ NetSolutions! He is the ultimate support representative."
Nov 4, 2014
The product is very user friendly and never had any issues for the past 3 years.  When I needed help installing or upgrading the product the support staff answered promptly and they were experts on their product.  It is rare these days to find a solid product followed by great support.
Sep 17, 2014
"We've been using VistaPoint since UCM 6 (currently on version 10); their support, features and customer service is second to none. It's truly refreshing to find a company that is still focused on delivering a product that meets its customers expectations and following it up with outstanding customer service and support. Kevin S. Information Systems Director"
Sep 16, 2014
We were forced to upgrade our current version of Vista Point as we upgraded our Cisco Call Manager. My main concern was for our receptionists to be able to monitor calls from both clusters as we cut over each site.  After speaking with tech support (Zach C.) he assured me it could seamlessly be done.  He recommended we first upgrade our current VP servers.  Once that was complete, he installed all components needed, and without any issues.  Works perfect. The product alone is worth the price, but actually working  with a tech support member that knows the software inside and out, just adds more value to their software.  Zach, again THANKS!!
Memberships & Affiliations